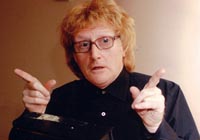 Phil Bowen is a poet, performer, biographer and playwright who has worked in over 500 schools in more than thirty counties as a poet-in-education since becoming a freelance writer in 1994. Born in Liverpool in 1949, his poetry has appeared in The Forward Book of Poetry 1998 and he has

published three full collections - Variety's Hammer and Starfly, both with Stride and Nowhere's Far – New & Selected Poems 1990 –2008 – Salt Publications – printed and reprinted in 2009.
ADRIAN'S WALL - His biography of The Mersey Poets A Gallery to Play To was updated and re-published by Liverpool University Press in 2008 when he both curated and co-ordinated 'Adrian's Wall', a multi-media installation - celebrating the work of Adrian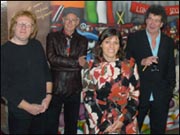 Henri – for L iverpool Capital of Culture, having also been commissioned as a radio programme broadcast by Radio 4.
All the Stuff, his 20 minute - 500 line plus oral poem - described as a 'work of genius' by John Cooper Clarke – is available on CD.
Cuckoo Rock, his first collection of poetry for children published by Salt in 2010 was short-listed for the CLPE Award in 2011.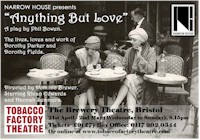 His most recent play, Anything but Love, played at The New End Theatre in Hampstead in November 09 – The Tobacco Factory Bristol April 2010 and at The Cheltenham Festival in October 2010.
In May 2011 he co-edited The Captain's Tower - 70 Poets Celebrate Bob Dylan at 70 - for Seren Books.
Nowhere's Far
New & Selected Poems 1990 – 2008
Salt Publishing
Whether laugh-out-loud funny or staring straight into the abyss, Phil Bowen's highly distinctive poems are written with great originality, rhythm and nerve. Here are poems that pass 'the spelling test' – casting a spell that in turn creates a distinct world whose landscape readers can inhabit for the poems' duration.
'A rioutous assembly! Phil Bowen's poems have always been unique, and it's great to see them gathered together'
Brian Patten
'For those who say poetry that is deep and meaningful can't be enjoyable, and those who think poetry that is enjoyable can't be deep and meaningful, think again. Phil Bowen's is. Reading him is like suddenly being asked to dance.'
Selima Hill
'Auden-like public statements mixed with the bleakness of Larkin...dark comedy and irresistible humour combined with melancholic sensousness'
Belinda Cooke - Shearsman Magazine
Unusual and striking ….great fun to read'
Sophie Hannah
By Chance

We first met
running together
for the same bus.

Turned out to be
the wrong one.
Tragedy
For Katrin Cartlidge
My wife and I went to the theatre once.
Didn't like it. One of those Greek things.
This actress made a noise half-way through
we both found so embarrassing
we nearly left right there and then.

A number of years later
the police brought round
the news about our daughter.
That's when I went and filled the sky
with what came out of that same woman's mouth.

'...there's a sensitive withdrawal that speaks mournfully of the human condition, but his irrepressible comic touch and stand-up performer persona puts him into an altogether different category'
Steve Spence Stride Magazine - 2009
'...By turns serious and entertaining, Phil Bowen can make a poem about anything
Jane Holland Poetry Review - 2010
'...His ideas are fresh breezes porcelain-brittle; poignant; often elegant. Here are private investigations which get darker and darker towards the end of this fine collection
Ric Hool – Tears in the Fence - 2010
Top

DRAMA INCLUDES:
A Handful of Rain - 1998
A Case of the Poet - 2001
Parlez Vous Jig Jig - 2004
Anything but Love - 2009
VENUES INCLUDE:
The Troubador - Earl's Court, The Poetry Café - Covent Garden, The Voice Box - South Bank ,Waterstone's Piccadilly, Torriano Meeting Rooms, Chelsea Arts Club , Liverpool Everyman Theatre, The Brewhouse, Taunton The Barbican Theatre, Plymouth, The Queens Theatre, Barnstaple, The Acorn, Penzance, The Exeter Phoenix.
FESTIVAL PERFORMANCES INCLUDE:
Edinburgh, Cheltenham, Dartington, Glastonbury, St. Ives, Birmingham , Canterbury, Clerkenwell, Salisbury, Daphne Du Maurier, Dylan Thomas Festival, The Larmer Tree, Secret Garden Party, Port Eliot Lit Festival, Hay on Wye, How the Light Gets In, Latitude Festival, Poetry Can - Bristol, Ilkley Poetry Festival
'...Phil Bowen was beamed down specially from another planet, and by the time he'd got to his first poem the audience were reeling with laughter, when he delivered his final piece there was hardly a dry eye in the house'
Peter Osbourne – Swansea Platform Jan 2004
'...a spellbinding and very funny reading – he creates his own world and takes us all on his journey'
Jo Roach – The Poetry Café, Covent Garden - October 2004
'...Listening to Phil Bowen read is always a pleasure - his unique voice is sometimes playful, sometimes intriguing, always moving.'
Tim Brinkman - Artistic Director - Hall for Cornwall – Truro 2009 - Waterstone's – Truro (with DM Thomas)
'Phil performs well in any given situation'
Bob Devereux – The Salthouse Gallery - Salthouse Gallery - St Ives September Festival - 2009
'A great performance – we all enjoyed it'
Genista Lewes – Fire River Poets - 8th October Taunton 2009 - Brewhouse Theatre – National Poetry Day
'...this was such a very good reading'
Tony Frazer – Shearsman Press - November 2009 - Plymouth Art Centre
Top


Anything but Love – 2008 -2010
'Rhian Edwards and Kali Hughes provide a captivating dynamic in this brilliantly written tightly directed show – with some tweeking could be an Edinburgh Festival hit'
Dave Woolley Dylan Thomas Festival 2008 - Swansea
'A great night's theatre! At times very funny – but also vastly informative and moving with great songs and poetry brilliantly achieved by both actresses'
Peter Johnson – St Ives September Festival 2009
'Rhian Edwards and Kali Hughes deliver the well-paced, punchy cleverly laced dialogue beautifully in this intimate confessional piece that didn't drag at all as is so often the case
Maureen McKarkiel – Revue Online - New End Theatre - Hampstead - 2009
'The star is Dorothy Fields, played exquisitely by Hannah Summers.... (she) not only looks and sounds the part of a debauched 1920s New York party girl, she also carries off the songs perfectly...(Dorothy) Parker's tortured but determined life is a compelling narrative... the highlight is Rhian Edwards moving performance of Parker's self loathing but witty 'Symptom Recital'...convincingly designed... wonderful costumes.... it's fantastic to see (this) pair of indomitable 20th Century ladies being brought back to life.'
Bristol Evening Post. - Tobacco Factory- Bristol
'Anything but Love is a triumph. Phil Bowen's splendidly lively adaptation captures the wit of Dorothy Parker and the lyrical genius of Dorothy Fields ), the spirit(s!) of the times, and the black dog that lurks behind so many artistic talents. Rhian Edwards is fabulous as Parker – louche, languid and troubled – gloriously quirky-voiced, barbed, bitchy, she melds beautifully with Hannah Summers' Dorothy Fields - lively, lissom, colt-like yet charming and sophisticated. The songs are deftly accompanied by pianist Mirek Salmon, an unobtrusive yet vital presence and Dominic Brewer's artful direction keeps things rolling along at just the right pace. Like Phil Bowen's previous work – particularly A Handful of Rain – where Dylan Thomas and Bob Dylan 'meet' – the pleasures and pains of the creative life are laid open before us, raw and ranting, delightful and dangerous. Catch this show if you can!'
Art Thomas – Square Magazine Tobacco Factory - Bristol
'... Anything but Love is an excellent play that deserves constant revivals'
Sarah Jane Arbury - Cheltenham Festival - 2010
Top

Salt Publications

email contact:
davidstoll.co.uk - Includes CUCKOO ROCK, David Stoll's latest musical for children, was co-written with the poet Phil Bowen, and has a story derived from A MIDSUMMER NIGHT'S DREAM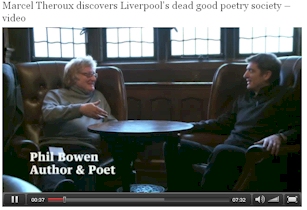 Liverpool Culture in the City

guardian.co.uk/travel/video/2013/liverpool-poetry-open-mic-night-video
Narrow House Productions
www.theblahblahshow.blogspot.com
http://iai.tv/video/dylan-as-philosopher
DylanEdResourcesForSchoolsVISUAL-D-PICS.
You Tube - St Ives September Festival 2009 re 'Anything but Love'
The Institute of Art and Ideas - Dylan as Philosopher
BBC - Adrian's Wall
Top

Phil Bowen has worked in over 500 schools in more than 30 counties since 1994. He has covered every age range from reception and infants to sixth form and beyond. He has worked with teachers at mentoring and Inset sessions, lectured to student teachers, and been employed in schools in deprived inner city areas and Special Schools for those with severe physical and learning difficulties, as well as the more privileged and high achieving realms of the Independent Sector.
CRB disclosure updated September 2021.
Recent residencies have included: The Royal School for the Blind, The Henrietta Barnett School for Girls and Neath & Port Talbot Schools & Libraries.
'Our pupils at Moreton Hall Prep thoroughly enjoyed their Poetry Day with you on 3rd October 2022'.

Louise Walker – School Organiser.


'Thank you very much for all your hard work. All the children and staff thoroughly enjoyed the workshops and had lots of lovely comments the next day.

Many thanks again.' Emily Knowles – English Co ordinator Moreton Hall - October 2022

'On behalf of Eton's Literary Society I wanted to thank you enormously for a fantastic performance on Wednesday evening.

The boys really enjoyed themselves and are all geed up to read Eliot.'

Dr Anna Camilleri – Head of English – Eton College - October 2022

'Thank you again for a great poem session with Eagle Class, it was great to create something together.'

Richard Crocker – Sheepscombe School – September 2022.

'Thank you again for being part of our Libraries Week programme.

We thoroughly enjoyed the session!'

Emma Spencer – Bridgnorth Library – October 2022

'Wonderful as usual – Thanks so much' -

Jo Greenberg - Devonshire House School – October 202
'I would like to thank you again for the lovely visit to our school. We have had some good feed back from the other schools and parents who felt that their children had been stretched and had worked at full capacity. Some children in my class have been trying to find some of the poetry you read to them in assembly which is great. What a fantastic day we had. It was just what our children needed and you really made them work hard. You had an impact on the top end of school like no one else has had and poetry reading has become quite a cool thing to do.'
Sue Westerby Peafield Lane School - Notts - December 2011
'...we met poet Phil Bowen. He was wacky, nuts and a genius who knew poetry and how to compose it as if he had been doing it before he could breath. He truly was a fantastic poet who could string together the simplest of words and turn them into a poem, with a flowing rhythm and deep meaning. We learnt a lot and had fun.'
Emma, Sophie and Kirsty – Year 9 - Thursday 25th June 2009 - Chilton Trinity School
'Thanks for today Phil - the evaluations demonstrated the students understood the approaches and ideas about form that you emphasised. They all enjoyed it and would attend another.'
Christine Mitchell - South West Gate Gifted & Talented S.W. Co-Ordinator - Trinity College- Teignmouth - July 2009
'Thanks again for a great few days everyone thoroughly enjoyed it' - Pat Brunskill – Centre manager DAZL Outdoor Centre Gunnislake - 'Performing for Success'
18t – 21st August 2009 – Antony House Cornwall
'Many thanks again for the sessions. I feel vindicated for having gone down the poetry route and was more than happy with the outcome, furthermore it has driven me to look at poetry with a new eye.'
Paul Doyle – Reading Development Office
'Not a moment of the four days the boys spent with Phil Bowen was wasted. They were saturated with poetry from the beginning, and, rather than switching off or moaning that poetry was 'too girly', the boys rose to the challenge of all the activities. Since the project the enthusiasm of the boys for English has improved, as has their written work.'
Michelle Mandale – Year 7 Class teacher – Glanafan School – Port Talbot - Neath & Port Talbot - 'Twelve Boys Tell' - 5 Day Project - Glanafan School– November - 2009
'Thank you for an excellent Inset day. We all enjoyed the afternoon immensely. You gave us some good ideas and published poems to use, and really made us think about how to use much more effective language in a range of interesting structures.'
Joanna Savva Year 3 Co-0rdinator - Garden Suburb School NW11 Teachers Poetry Inset – April 2010
'the guest speakers were great especially the poet Phil Bowen – the students loved him and he got events off to a very lively start'
Linda Varley – N.W. Director - Teach First - July 2010 - Warwick University – Second Teach First Summer Institute
'...we all enjoyed him and he is to become a regular feature'
Serena Alexander - Headteacher Devonshire House School - NW3 – Nov 2010
'...lots of positive feedback re your visit – it was great and has had a profound effect on the pupils involved'
Julie Lewis – Eng Dept - Cwrt Sart Comp School Briton Ferry - Nov 2010
'Many thanks Phil – the feedback from both schools has been excellent'
Caroline Davies – Dylan Education Project – Swansea - November 2010
'... 'Fantastic feedback re your visits to Hayle for InTents – the students loved you..' Miriam Nelken - Associate Producer- Learning & Participation '
- Artichoke – Toynbee Studios - May 2012
'... '' a delight to work with and a very good recording' –
'
- Anne Rosenfeld – rba productions for The Poetry Archive – May 2012
'... ''You add so much richness and culture to our school and are always welcome ' '
– Jackie Parker – Headteacher Crickhowell High School – June 2012
'... ''All the schools in the Project loved working with Phil' '
Ann Gray – Co-ordinator Bodmin Moor Schools project – June 2012
'... '''96 Reasons – a brilliant poem – eaxactly right for the Hilsborough victims' '
–
Emma Gibson – producer BBC World Services – September 2012
'... ''A'Phil brings so much insight and humour to our sessions, which is why he so regularly returns - it's always a pleasure' – '
Saul Berger – Eng Dept – Truro School – September 2012
Top


Latest news

Phil just gave me a new link to a full length version of his acclaimed performance poem "All the Stuff".

All the Stuff

https://poetryarchive.org/poem/all-the-stuff/

'Your set was astonishing - really incredible - I think the highlight of the whole fest for me. A work of genius'
- Anna Saunders - Founding Director of The Cheltenham Poetry Festival

'....gave me the same thrill as when I first heard Bob Dylan songs in my teens - the joy of well conceived and meaningful wordage.'
- Peter Sheterline

'Wow that was brilliant, odd because twas spontaneous and organised at the same time. Manic yet calm. Genius.'
- Alan Parsons

'Phenomenal!'
- Ric Hool - Abergavenny Lit Festival
'... brilliant! – the students here that night loved it - Phil manages to be both dark and hilarious at the same time'



'All the Stuff - The Waste Land of the twenty-first century. Dave Woolley – Dylan Thomas Centre
'A stupefying smorgasbord of cultural references and verbal romp through the cultural landscape - sometimes there's a poem - well - it's the poem for its time and place'
Elvis MacGonagall
'...a work of genius...'
John Cooper Clarke.
'All the Stuff went down an absolute storm'
Simon Lord - 'How the Light Gets In' - Hay-on-Wye June 2011
'...absolutely brilliant - everyone loved the poem – including the other poets'
Ethel Minogue – Mascara Bar - Stoke Newington Festival June 2011
Top

Friday September 23rd - Sheepscombe Village School
Saturday 24th September 2022 - Cheltenham Poetry Festival
Francis Close Hall Chapel - 4.00p.m
'Somewhere Becoming Rain' - Philip Larkin Centenary

Larkin and the Fifties: Monday 3rd October - Bridgnorth Library - 7.30.- 9.00pm
Tuesday 4th October Church Stretton Library - 7.30.- 9.00pm
Wednesday 5th October - Eton College Literature Society
Thursday 6th October - Devonshire House - Hampstead
Somewhere Becoming Rain - Friday 7th October - Ludlow Library - 7.30.- 9.00pm
Webmaster's note. Phil has just sent me these readings done recently in Conway ...and here they are!
Cuckoo Rock
Ode to Conway
Cows on Beach
Hunchback in Park
The Trees
Stopping by Woods
Featured in BBC4 s Charles Causley - Cornwall's Native Poet - October 2017
Featured in BBC4 s Charles Causley - Cornwall's Native Poet - October 2017
Love Somehow Promo from Kate Cheeseman on Vimeo.
as shown at Bafta Studio November 2016
September 2016 -'Love Somehow' - Poem/Film about Caitlin Thomas - written by Phil Bowen starring Sally George directed by Kate Cheeseman
World Independent Music and Film Festival - 2017
Best Screenplay - Phil Bowen/Anna Maloney
11 nominations at Idyllwild Film Festival inc:
Sally George - winning Best Actress award
Sally Herbert - winning award for Best Score
Further nominations included best screenplay and best director.
Nominated for best narrative short film at Erie International Film Festival
'a powerful and exquisite text as if part of a poem she never wrote' - Bucharest Cine Festival
Accepted for London International Film Festival 2017, Bafta Cymru Carmarthen Film Festival May 2017 and Indian World Films September 2017
Look at what was said
Look at things now
What was spoken of in love
Has left somehow
Somehow it happened
Somehow it did
What was spoken of in love
Was best kept hid
The air had a song
The song a catch
The catch was love
The love no match
Look at what's broken
Look at what's wrong
Look at the love
Look at the song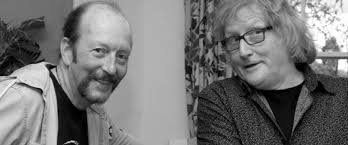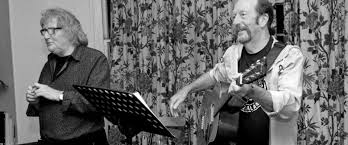 Phil Bowen and Ric Hool
Two poets in a performance infused with the spirit
of the early Rock 'n' Roll Years
10 songs including 'What Bo Diddley Did'
'13 in 63' and 'This Here Guitar'
Forthcoming gigs to be announced
To Be Published soon


This Here Guitar 33 (and a third ) poems infused with the spirit of Rock n, Roll
YOU'RE LIKE A ROLLING STONE
You're like a Rolling Stone, you're my generation,
You're a swordfish trombone, you're the Woodstock Nation,
You get around, you're homeward bound – dancing in the dark,
A bird on a wire, who by fire, Macarthur Park,
Is there life on Mars beneath neon stars? - these here guitars,
Those Dachau Blues – have you read the news?
How she kept her face in a jar.
I don't know what you are.
You just drive me wild.


Orange Blind
Poems after the Scottish Colourists
ORANGE BLIND

You're an orange blind, you're the Sound of Iona,
You're what I had in mind, you're the Lisa Mona,
An oriental quilt, the Campbell kilt, a pipe,
A bold conceit, the Argyll's seat, a certain type
Of Chinese vase – George Street without cars – a fan,
What I may say to Cezanne
About this painting I've just signed
And called it 'Orange Blind'.
'... you can guarantee higher-profile Beatles nostalgia but little will be as thoughtful.
Chris Mugan - Independent on Saturday
A Gallery to Play To is an intimate account of the lives and careers of the poets Adrian Henri, Roger McGough and Brian Patten and is both a critical survey and an unashamed celebration. First published in 1999, and now updated, Phil Bowen pinpoints the enormous social and cultural changes that post-war Britain has undergone. With unparalleled access to the three writers, he has written an indispensable book for anyone interested in poetry, popular culture and society over the last fifty years.
'... a masterclass in how to write a group biography - elegantly written taking us on an imaginative tour of the streets of Liverpool and the sounds of 1960s/1970s.
John May - The Generalist - May 2016
'...a warm, well-written and unpretentious account of three good men.
Adrian Mitchell
'...highly enjoyable, accurately descriptive and well researched'
George Melly
'...gives a real sense of real people and their and our real and recent poetic roots. Also it's a good gossipy read. Yeah, yeah, yeah!'
Matt Holland - Poetry Review
'...written with verve, style and great personal insight – a poet writing about poets
D.M. Thomas
Top

Cuckoo Rock
Including readings and performances
Salt Publishing
Cuckoo Rock creates a magical, elemental, questioning journey in search of a lost tomorrow through fire, earth, air and water meeting lots of wonderful knockabout musical characters on the way in poetry that is various, heartfelt, witty, skilfully rhymed and beautifully rhythmic.
Short-listed for the CLPE Award in 2011.
'And sometimes you may see it
Sometimes you may not
Keep your eyes wide open
It's difficult to spot
As hard to find as the finger sign
On the hand of the talking clock,
Crossing over the Clapper Bridge
Heading for Cuckoo Rock.'
'At a time when playtime is sanitised and childhood as eroded as a blasted Tor, we need books like this. A unique collection of magical poems.'
Peter Dixon
'Cuckoo Rock lies just over the border from Charles Causley's Cornwall, and like that sly quiet Cornish master Phil Bowen lets the spirits of the place and the echoes of true folk songs lead him into curious and thrilling spaces just beneath the surface of our world.'
Philip Gross
'Phil Bowen's poems explode, dazzle, sing - real fun on the run...'
Katherine Gallagher
'...Phil Bowen here displays a treasure trove of poetry. I recommend this book for readers of all ages.
Emmeline Armitage
Top

Readings and Performances from July – November 2010: Cuckoo Rock
'...thanks so much for your contribution at Port Eliot - you could see the kids were really engaging with your words and I was just speaking to someone yesterday who brought his 5 year old son to Port Eliot who was telling me how much his son really loved your performance and managed to overcome his shyness and join in - so thank you again. It would be great to work with you again in the future.'
Rachel Newsome – House of Fairy Tales Director - Port Eliot Festival 2010
'Cuckoo Rock is mysterious, magical and musical. It's for all ages, but as a 'children's' book , not patronising and twee [as they can be]. The language is rhythmic and resonant but also challenges. It's a great read!'
Mike Ferguson – Head of English – Clyst Vale School - Exeter
Incredibly entertaining and hilarious afternoon – it's so important for children to hear and experience what words can do - and what you can do with them'
Emma Francis – Yrs 4 & 5 Teacher – Plymtree CP School - Collumpton
'Phil grabbed their attention right away - Cuckoo Rock has cross-corricular appeal – something for everyone and is especially motivating for boys'
Emma James - Lit Co-Ordinator - St Thomas CP School, Swansea
'A thoroughly rewarding enjoyable day – the children loved Cuckoo Rock and as usual Phil inspired them to create poems of their own.'
Helen Tyler – Lit Co-Ordinator Mayals CP School, Swansea
'Abraham Lincoln said : 'my best friend is the man who'll get me a book I read'. As far as children are concerned, Phil Bowen is their best friend. As always an excellent day of learning and fun'
Adrian Smith – Deputy Head – Pontilliw CP School, Swansea
Top

The Captain's Tower ( June 2011)
Authors: Phil Bowen, Damian Furniss, David Woolley
Seren Books
Described by Leonard Cohen as 'the Picasso of song', Dylan's body of work – equally of its time and timeless - is glanced at, reminisced over and taken on. His enduring appeal and fixity of purpose - both deeply personal and widely universal - is absorbed from 'The Times they Are a Changin' via 'Things Have Changed' to 'I Feel a Change Coming on' – using language to pick up on what's out there in the atmosphere, what's on people's minds, wherever the word has travelled - whether spoken or sung - from the poetry inside the soul to the songs abroad in the air.
Top